I have decided to find a new caretaker for my Porsche 914.
In this post I will try to describe it as accuratly as possible.
The asking price is set at 350 000 swedish crowns or for international buyers around 35.000 € depending on the exchange rate.
Inital contact via PM on facebook or 914world or whereever you have gotten here from or on email: pcs12234 @ gmail dot com
You can also comment on this post with your contact details and I will reply to you.
Please read to the end to see what is included in the sale apart from the car itself.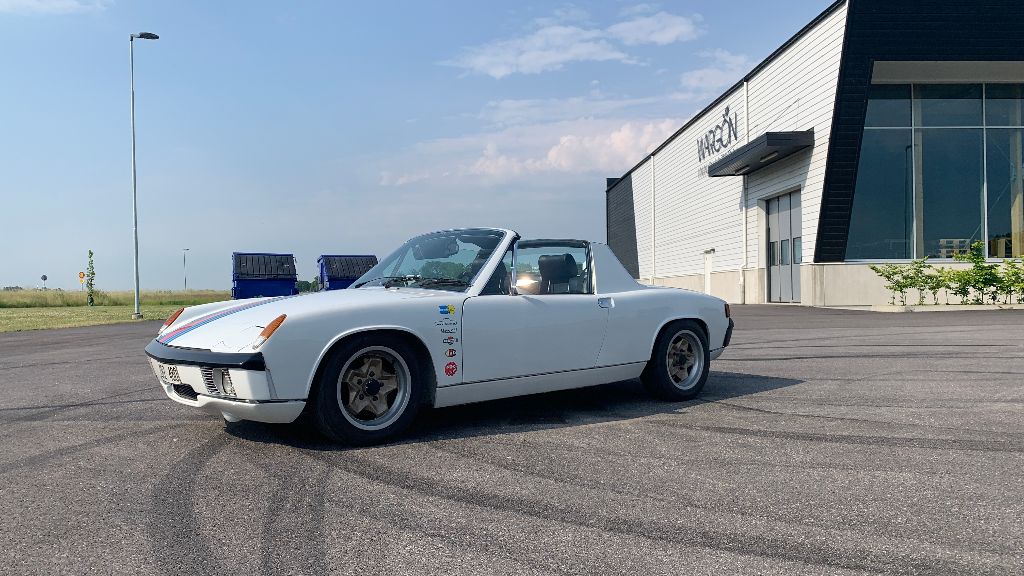 Basic facts: Its a 1974 Porsche 914 2.0. Originally sold in San Jose California. The original tach read about 86000 miles. If that is correct or not I dont know and for me it doesnt matter because of the extensive restoration. The odometer was zeroed with the new engine and currently sits about 5200 km.
I imported the car in 2013 and have been restoring and modifying it since then. If you look the all the old posts here you can see alot of the work done.
Almost everything is either restored or replaced with new parts.
Exterior: The paint colour is Porsche Pure White from the 2010 model year. The Martini stripes is layered vinyl that I bought ready made from the UK. Martini logo stickers will be included with the sale. The paint is ok but not concourse level, it has gotten a few stonechips and such since new.
Below I will try to list all the work/modifcations done to the car, its quite a long list so I might forget something.
Body:
Reinforced front sway bar mounts.
Reinforced rear suspension mounting points.
Filled in the gaps between the front fenders and windscreen cowl.
Smoothing the rear panel between the lights. (not going to use the "Porsche" logo reflector)
Moving the battery from the original postion to the firewall behind the passenger seat.
Paint colour Porsche C9A – Pure White, MY 2010
Shaved jack point covers on the sideskirts.
Front trunk lid in glas fibre.
Rear trunk lid in glas fibre.
Gas struts for front and rear trunk lids.
Chassis and brakes:
Changing from four lug to five lug wheel bolt pattern.
Porsche 911 front suspension struts and hubs.
Re-drilled and fitted studs to the original rear hubs.
Elephant Racing Polybronze bushings front and rear.
Porsche 911 front brake discs.
Porsche 914-6 rear brake discs.
Brembo aluminium two-piston front calipers.
Portfield front brake pads.
PMB Performance rebuilt rear calipers fitted 2020.
Porterfield rear brake pads.
Steel braided brake hoses front and rear.
Porsche 911 19 mm master brake cylinder.
Tarret Engineering adjustable front sway bar. (stock rear sway bar)
Bilstein Sport shock absorbers front and rear.
15×7 Cookie Cutter wheels.
195-55/15 Nankang NS2 RS tires
Tangerine racing rear swing arm mounts with toe adjustment.
Bump steer reducing spacers for the steering rack.
Handbrake lever moved forward to clear new seats.
All the hardware was either replaced or replated.
A-arms and other underbody parts was powdercoated.
Engine:
Fully built 2256 cc engine from GBOT in Denmark. Dynoed to 158 hp and 214 Nm.
With exhaust headers instead of the stock heater boxes it would probably free up another 5-15 hp.
40 mm individual throttle bodies from www.thedubshop.com along with other engine sensors.
Tangerine racing pulley system from the ITB's
Hi Torque start motor
All the engine tins powdercoated silver.
Front mounted oil cooler with a Mocal thermostat and braided lines all the way to the front.
Exhaust is stock heater boxes and a Scart Supersound rear muffler modified with a wideband lambda port.
There is alot more details to the engine but that can be seen in this video on my youtube account.
Engine noises here:
and here:
Ignition and Fuel system:
MaxxECU aftermarket fuel and ignition. Fully adjustable with a standard laptop.
Bluetooth output to a 7″ Asus tablet mounted in the dash to display engine data. (tablet is included in the sale)
4 x head temp sensors
4x LS2 ignition coils enables sequential ignition (current tune is set up as wasted spark)
-E85 fuel mixture and temperature sensor
Stainless steel fuel lines from Tangerine Racing
Bosch fuel injectors (Brown, 350 cc/min)
Front mounted fuel pump, filter located in the rear.
Fuel pressure gauge mounted in the engine bay.
Gearbox:
The gearbox was rebuilt in 2018/2019 by Perrys motor in Sweden.
Some bearings was changed and the syncros for first and second gear was replaced.
The gearstick assembly is from Rennshift with a 917 replica shift knob.
Tangerine racing precision shift adjuster
Tangerine racing firewall shift bushing.
Rear shift arm support bushing upgraded to bronze for less slop.
One complete new driveshaft from Porsche in 2018.
Electical system and lights.
Upgraded fuse panel with blade type fuses.
The wiring harness was sent to Kroon in Holland to be checked and alot of connectors and cables was changed.
Front position and indicator lights are LED from Spokeworks (really bright)
Rear brake lights are LED from Spokeworks (very bright!)
New rear lenses from 914 Rubber
Rear license plate lights are LED.
Interior:
New windshield was installed with new trim in 2018.
All new carpets.
Black alcantara covered instrument panel.
New seats from italian D'eser in 2019.
Oil pressure/temp gauge from a 911.
Sparco suede steering wheel with quick release.
Windshield washer system to the later style with electrical water pump.
Bronze bushings for the pedal assembly.
Martini racing floor mats (not in place in the photos)
Other mods:
Fuel cap laser etched with the Porsche crest.
Passenger seat has double seat belt locks to let our dog ride harnessed.
CTEK battery charging port installed in the rear trunk.
Other things included in the sale:
The 2.0 type 4 engine that was in the car when I bought it. It has a bent exhaust valve on the #3 cylinder.
I do not have any of the old Djettronic parts for the engine.
4 7×15 inch rims with 5×130 stud pattern. They can be seen in some older pictures on this site.
The 7″ Asus tablet used to monitor engine data + backup versions of the current tune on a separate USB memory stick.
A few 3-4 plastic bins with old and new spare parts.
A binder with all old receipts both from my work and some from its time in the US.
Martini logo stickers and spare stripe bits.
Spare plasti-dip paint cans for the wheels.
Things that are not working and can be improved:
The fresh air fan only works on two speeds, the electrical board needs to be replaced.
The dome light between the seats does not work. I havnt bothered locating the fault.
The engine drips a bit of oil but I havnt needed to refill any during the driving season (april-september)
The engine tune can be leaned out a bit at cruise.
Engine cold start could need more finetuning (very low idle rpm for the first minute)
The gold paint on the wheels is just plasti-dip paint and could use a touch up. (black powdercoat underneath)